Company Outline
| | |
| --- | --- |
| Established | 18th May, 1939 |
| Capital paid-up | 100million(Japanese Yen) |
| Annual Turnover | 11,605million(Japanese Yen) |
| Employees | 360 |
(figures are shown as of 31st march,2019)
Office and Factory
Head Office

8-1, Tenjin 2-chome, Shimizu-ku, Shizuoka-shi,
Shizuoka-ken 424-0809 Japan
TEL:+81-54-366-1106 / FAX:+81-54-364-7318
E-mail:kikaku@seiko-co.com

Shimizu Plant
(ISO9001 certified)

8-1, Tenjin 2-chome, Shimizu-ku, Shizuoka-shi,
Shizuoka-ken 424-0809
TEL:+81-54-366-0111 / FAX:+81-54-367-6690

Mishima Plant
(ISO9001 certified)

270 Matsumoto, Mishima-shi, Shizuoka-ken 411-0822
TEL:+81-559-77-1515 / FAX:+81-559-77-1514

Fujikawa Plant
(ISO9001 and ISO14001 certified)

837-6, Kitamatsuno, Fuji-shi,

Shizuoka-ken 421-3301
TEL:+81-545-85-1122 / FAX:+81-545-85-2999
| | | |
| --- | --- | --- |
| Shimizu Plant | Mishima Plant | Fujikawa Plant |

Products by Manufacturing Division
Packaging Machinery (Mishima Plant, Shimizu Plant)

SEIKO CORPORATION began to manufacture bottling and packaging machinery in 1951. The bottling and packaging machines manufactured today are based on our many years of experience and the advancement of technology which we have obtained. The machines with excellent quality have got great trust and praise of many customers.
Our machines are used in a wide range of industrial fields: food, drinks, cosmetics, toiletry, chemical, pharmaceutical industries and so on.
We are also the exclusive distributor of PERRIER (France) rinser and air blower in Japan.

-Various kinds of packaging machines for constructing full production line.
Bottle Unscrambler, Liquid fillers, Sealer, Cappers, Inspection machines,
Palletizer, Casing/Uncasing machine
-Filling and capping machine for limited production of a wide variety of products.
-Pouch filling system.
-System designing for packaging plant and custom-built machines to meet
customer's special requirements.


Filling and capping machine
for small lot production

Pouch Filling System

Casing Machine
Cold Forged Products (Fujikawa Plant)
| | |
| --- | --- |
| | Automobile parts, Electric power tool parts (Drill, Hammer, Chain-saw, etc.), Parts for industrial and agricultural machines, office equipment, electromagnetic clutches, etc |
Products by Trading Division
(Local sales agent of Mitsubishi Electronic Co., Sumitomo Rubber industries Ltd., Kawasaki heavy industries Ltd. etc.)
Electronic & Electric Equipment
Programmable logic controllers (PLCs), AC servos, Motion Controllers, Human- Machine Interfaces, and other factory automation machinery and systems, System engineering for Factory automation.
Air conditioners, Freezer, Gas turbine generators, Elevators, Parking systems.

Logistics & Labor-saving Equipment
Warehouse systems, freight elevator, Construction and civil engineering machines, Shovel loaders, Cranes, Tires.
NON-CONSOLIDATED THREE-YEAR SUMMARY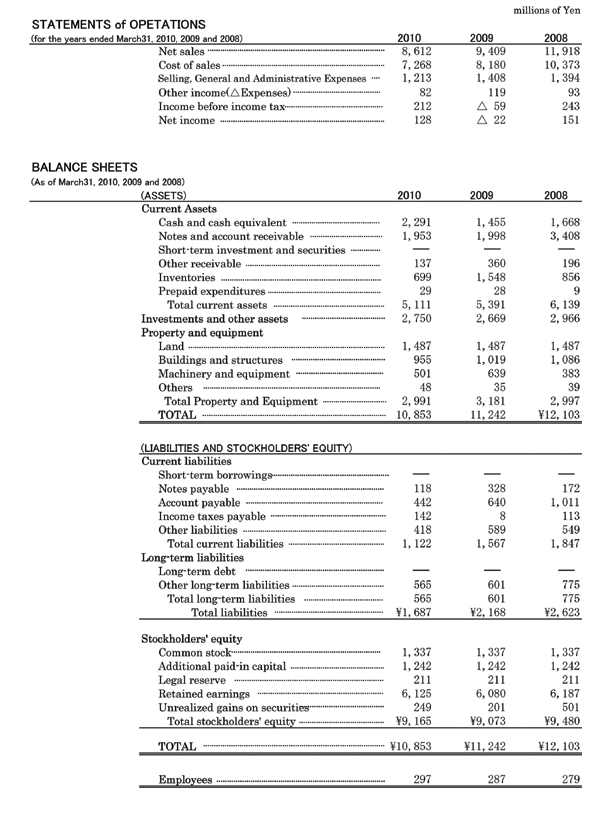 | | | |
| --- | --- | --- |
| | Copyright(c) 2006 Seiko. All rights reserved. | |